STAGES ET ATELIERS 2023
---
Coming up next
---
Wobage Willow Weekends
We are organising two basketry courses at Wobage Farm Workshops in Herefordshire «Landscape baskets» with me on the 2nd and 3rd of September and «Square work» with Clyde Hoare aka @wildwicker resident basketmaker and willow grower at Wobage Farm Workshops on the 9th and 10th of September!
You will be welcome to visit the Wobage Farm maker's craft exhibition in the gallery too as the courses are held during Hereford Art Week a highlight of the Wobage farm calendar. You'll meet fellow makers in other materials such as potters, woodworkers, glass artists during this end-of-summer florish of creative activity …
The courses:
« Landscape baskets » on th 2nd and 3rd of september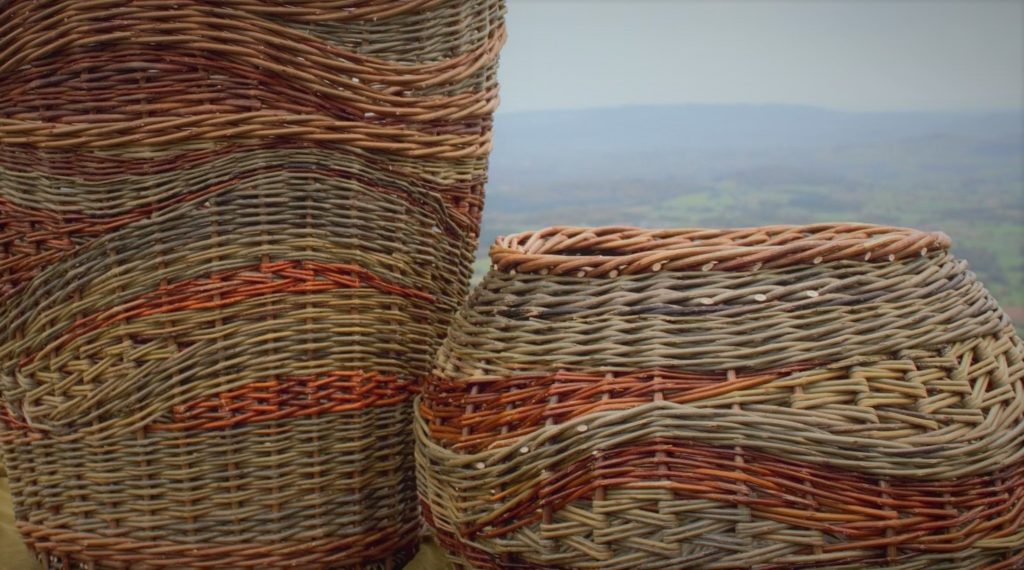 Isabel invites you to explore rands and learn how to merge and combine them to create textures patterns and highlight the natural colours of brown willow. Starting with a simple french round base this course is an exploration of freeform rounded shapes and an immersion into the rythm behind different rands. It is best to have mastered french randing to get the best out of this course and have fun playing with it's many variants. You'll be rand-painting in no time!
« Square work » on the 9th and 10th of september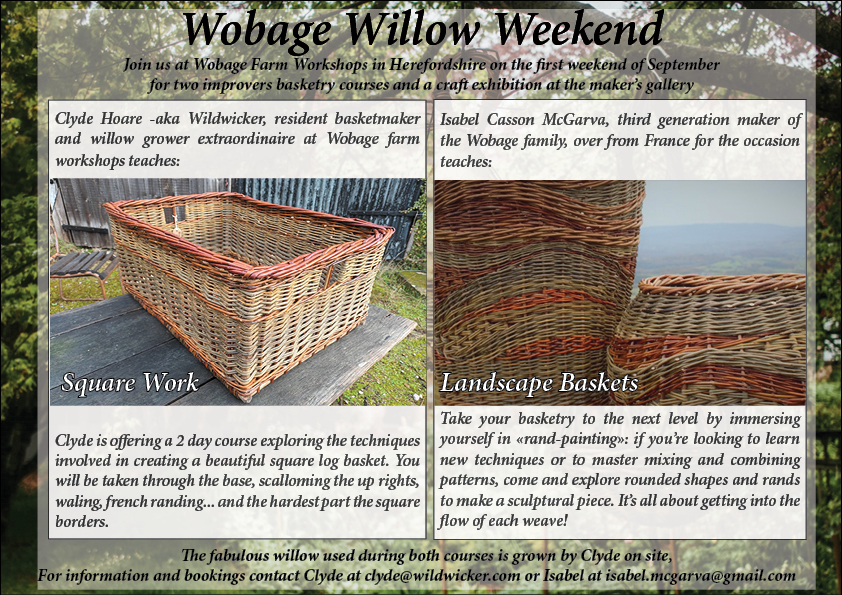 Clyde will take you through all the steps of making a square log basket, a new challenge for intermediate basketmakers… During these two days he will take you through square bases, scalloming uprights, waling, french randing and the hardest part… Square borders!
Get in touch!
Clyde: email: clyde@wildwicker.com
Isabel: through my contact page on this site (see contact)
---
« Torons tout ronds » avec l'association Volubile en pays poitevin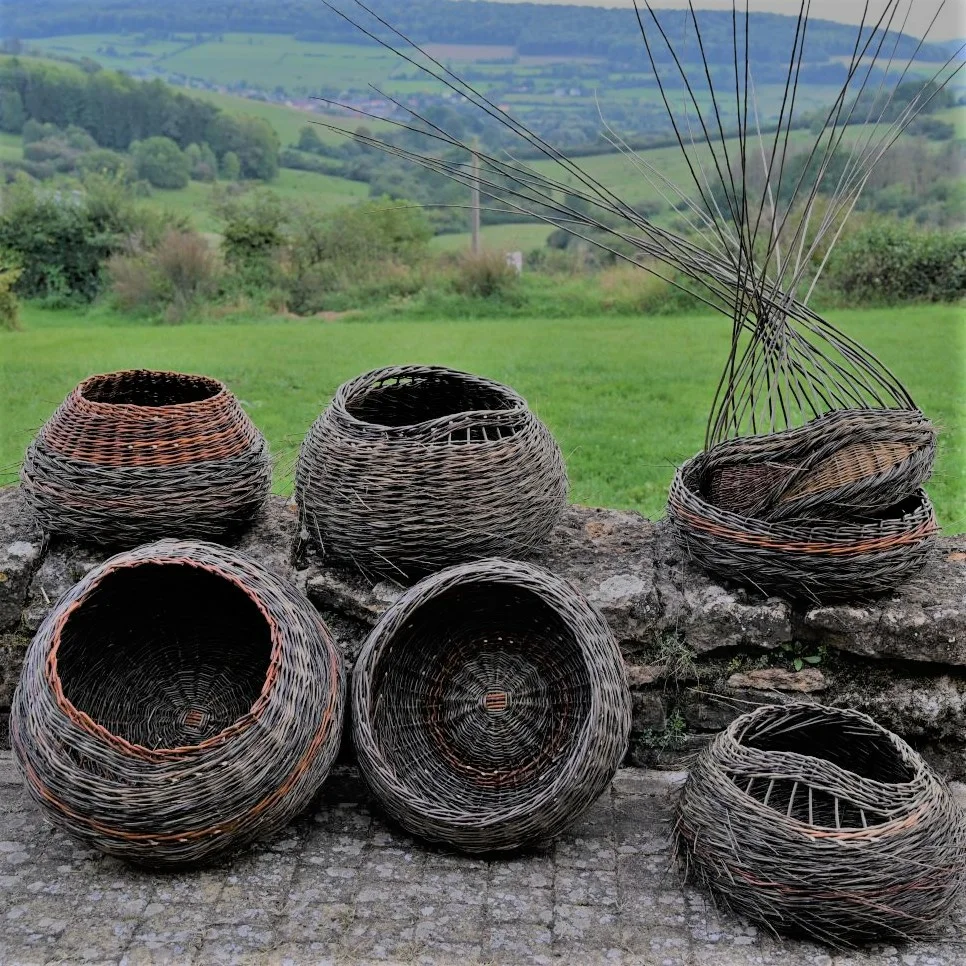 Je suis l'invitée de l'association Volubiles cet automne à Poitiers, j'anime un stage de trois jours Du 27 au 29 octobre 2023, de 09h à 17h autour d'une exploration du point toron pour les vanniers amateurs
---
ATELIERS SUR DEMANDE
Je vous accueille chez moi dans mon salon plein de livres et d'osier, ou sur ma pelouse au soleil pour diverses activités vannières de votre choix et me déplace aussi avec osier outils et matériel à votre demande si vous avez un groupe constitué d'un minimum de 4 personnes et d'une participation aux frais de déplacement en plus des tarifs du stage… A condition de s'y prendre bien à l'avance! Habituellement ça se conçoit d'un an sur l'autre au mois de janvier, alors n'hésitez pas à me proposer bien en amont!
POUR TOUS LES ATELIERS ET STAGES:
Matériel et matériaux inclus
A partir de 16 ans sauf si spécifié ouvert aux enfants / activité parent -enfant ou balade en famille
Si vous êtes intéressé.e.s par des ateliers vannerie faites vous connaitre en passant par mon fichier contact!
Logistique
Possibilité de trouver des gîtes et chambres d'hôtes localement, nous avons notamment un accord avec Hello Vélo à Grond, et plusieurs possibilités de gîtes et chambres chez l'habitant dans les villages alentours, il suffit de demander.
Vous pouvez trouver à garer votre camping car ou camper aux campings de Panneçot et Châtillon en Bazois
Possibilité de locations de vélos avec nos amis de Hello Vélo à Grond et Châtillon en Bazois
Pour tout autre renseignement, écrivez moi sur la fiche contact!